Don't Be Scared Of Commissions!
8/25/2021
There is a wall in your home or office that is in desperate need of artwork. You come into the gallery with a general idea of what you might like. We show you lots of options and you end up falling for the style of one artist in particular, but the colors and size of what we have aren't quite right.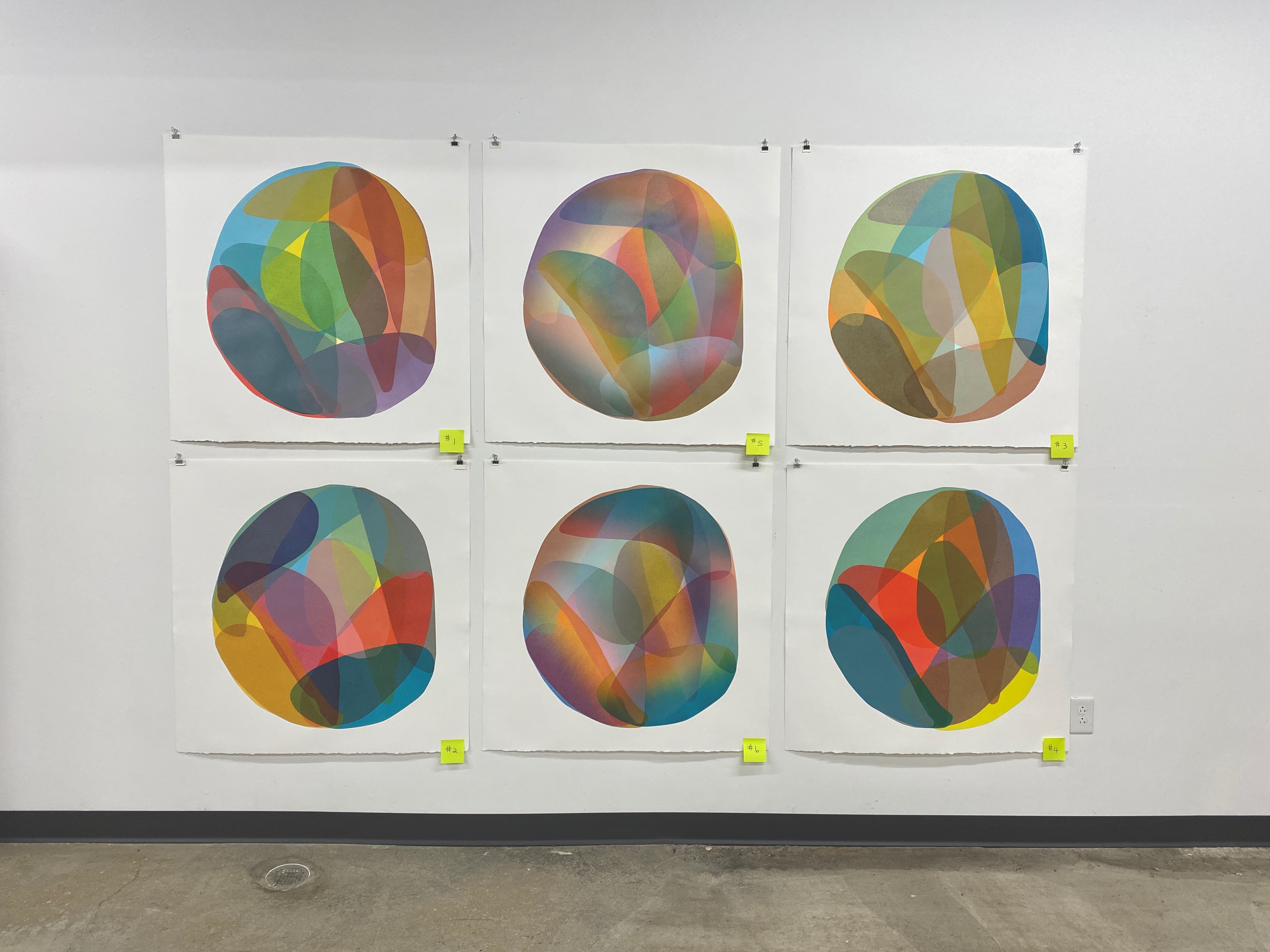 Results of initial commission for client to choose from
A similar scenario unfolded late last year when a client visited the gallery with a spot on her living room wall in mind that needed something special. We happened to have one of Laura Berman's "Gem L" series monoprints out and the client had an immediate response to the shapes of color and beautiful transparent layering. But it needed to be slightly larger and for her space, the colors needed to be richer and more saturated. So, what's the next move? We offered the often-dreaded word… COMMISSION. Commissioning original artwork isn't scary, we promise!Our commission process is actually straightforward…and painless! In this case, the hardest part of choosing the type of artwork and artist was already done! We knew that Laura Berman would be excited to work on another commission for a client of ours, as she completed a commissioned series of "Starburst" prints last summer that turned out amazing.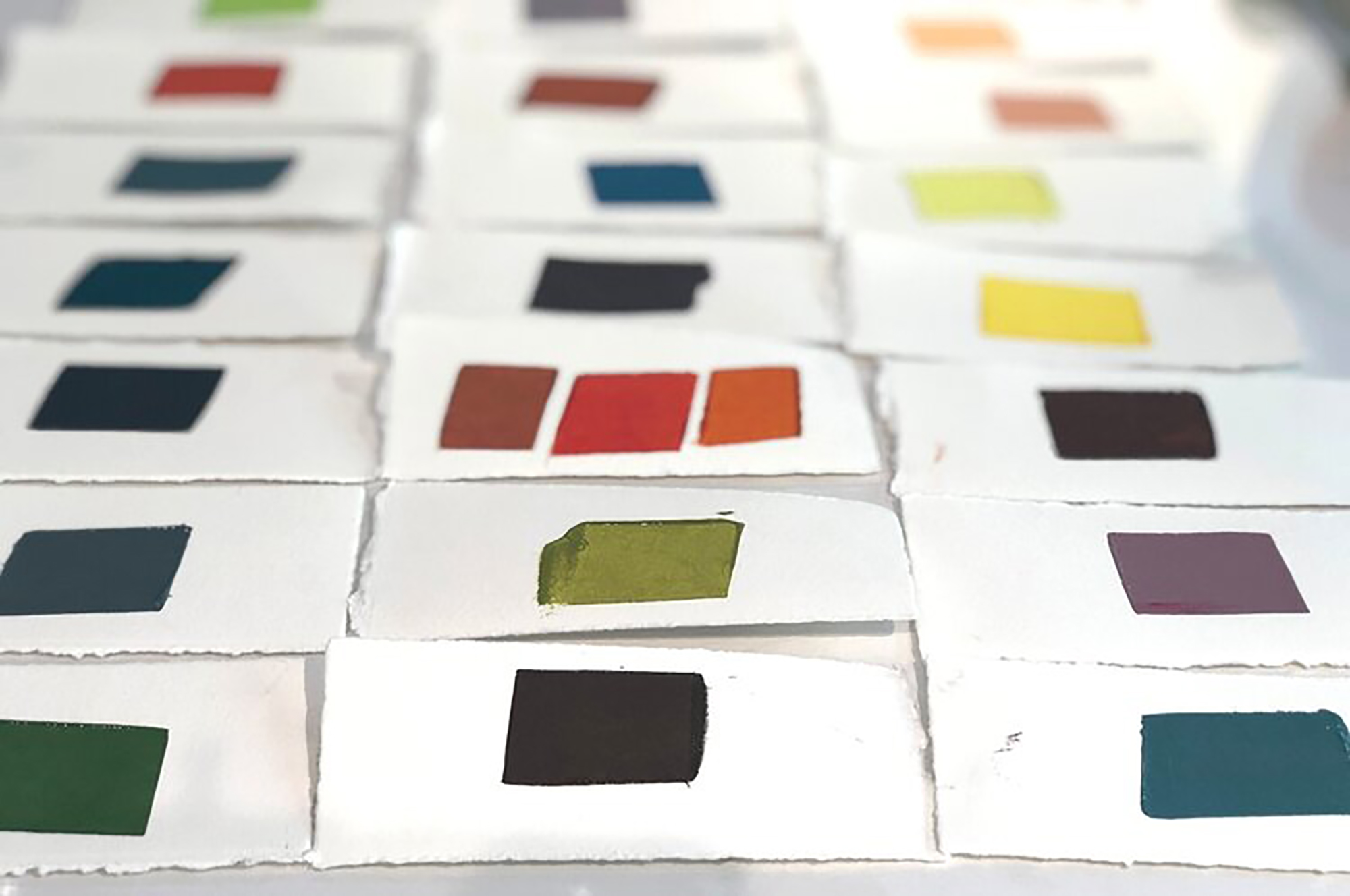 Custom mixed ink test samples
Once a size was determined and we received more direction on colors, Laura worked on a plan for printing remotely with Pele Prints. Laura is based in the Kansas City area and Pele Prints is located in St. Louis. Since this project started in early 2021 with COVID-19 restrictions still in place and Laura was
juggling teaching responsibilities and other projects, printing in person, as Laura normally would do, wasn't feasible. A process challenged by distance was made easier as Laura had already been printing with Amanda Verbeck at Pele for several years. Read more about how Laura mapped out specifications for executing the prints on
Laura's blog
.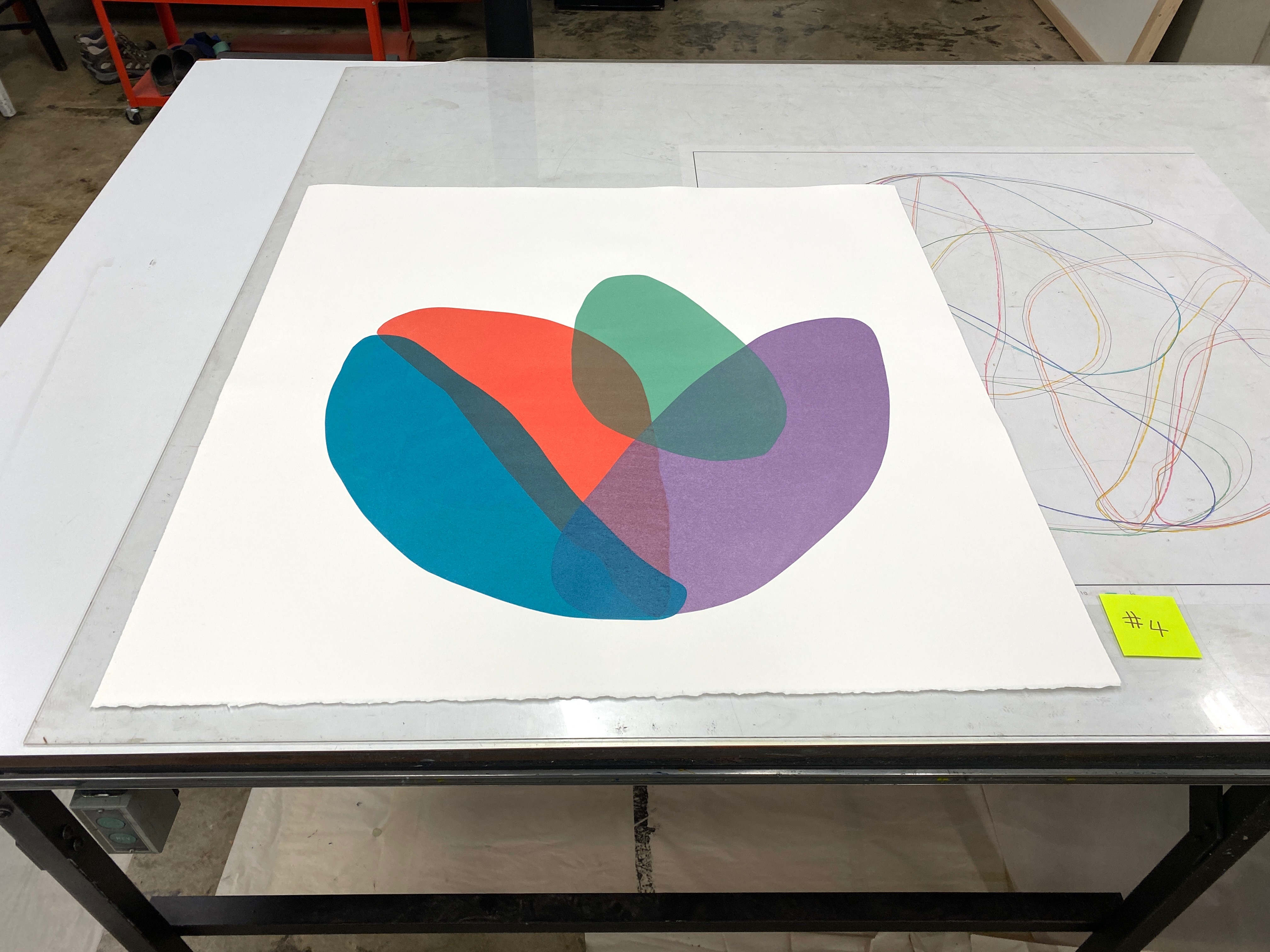 Process images from the print studio to Laura during the collaboration process
Throughout the process, Laura sent us progress images for us to pass along to the client. Laura ended up printing (through Amanda at Pele) six prints to choose from. When we sent all of the final options to the client, she was unsure of the colors and was having trouble visualizing them in her space. Usually we would pack an unframed print in a portfolio, drive over to the client's home, put on white gloves, and hold it up for them to see in person. That wasn't an option this time. So we did the next best thing– Photoshop images of each print onto a photo of the client's wall. That simple fix did the trick and the client was able to immediately choose her favorite. She loved them so much that she ended up choosing a second print in the series that would go in her office.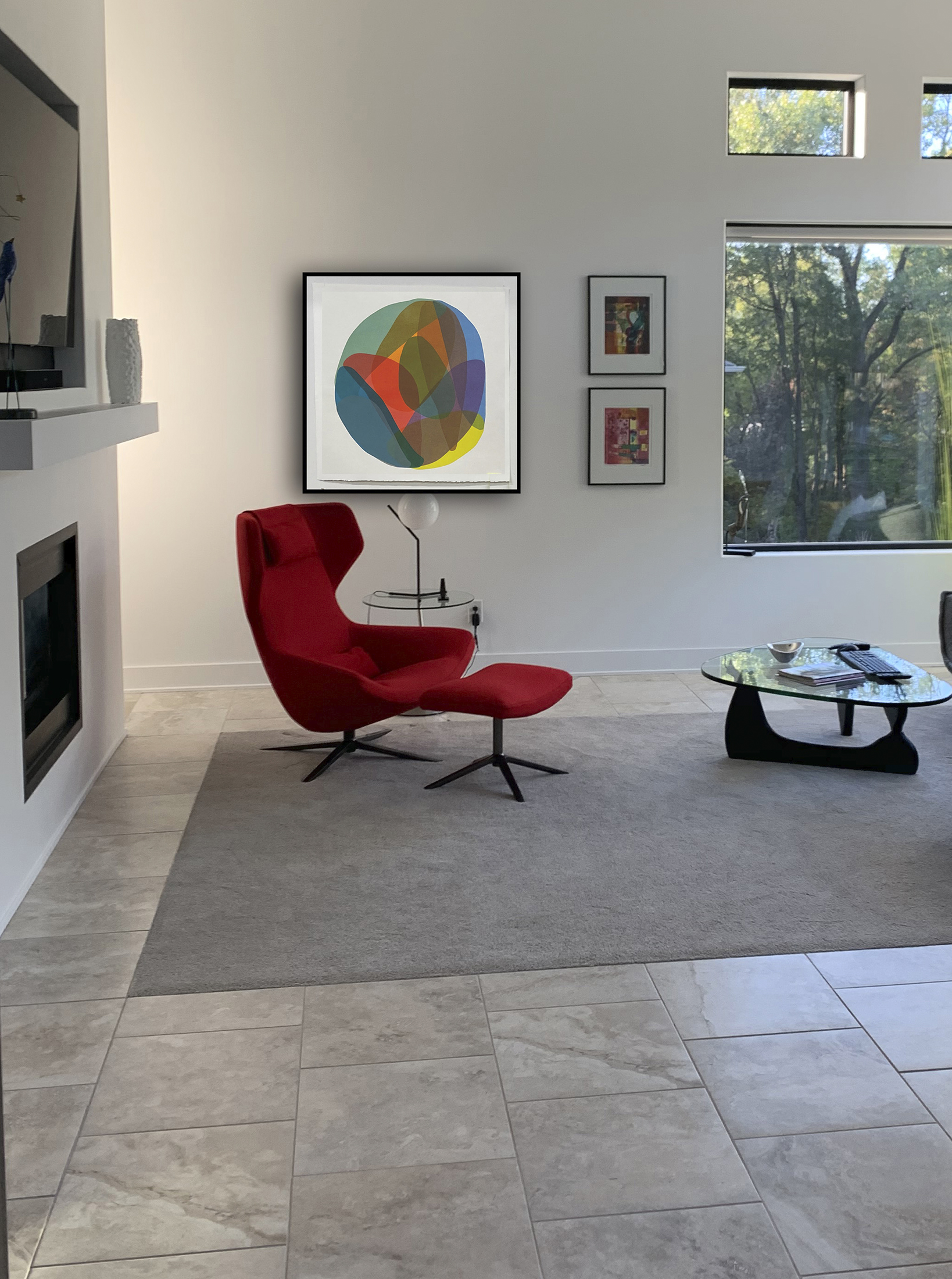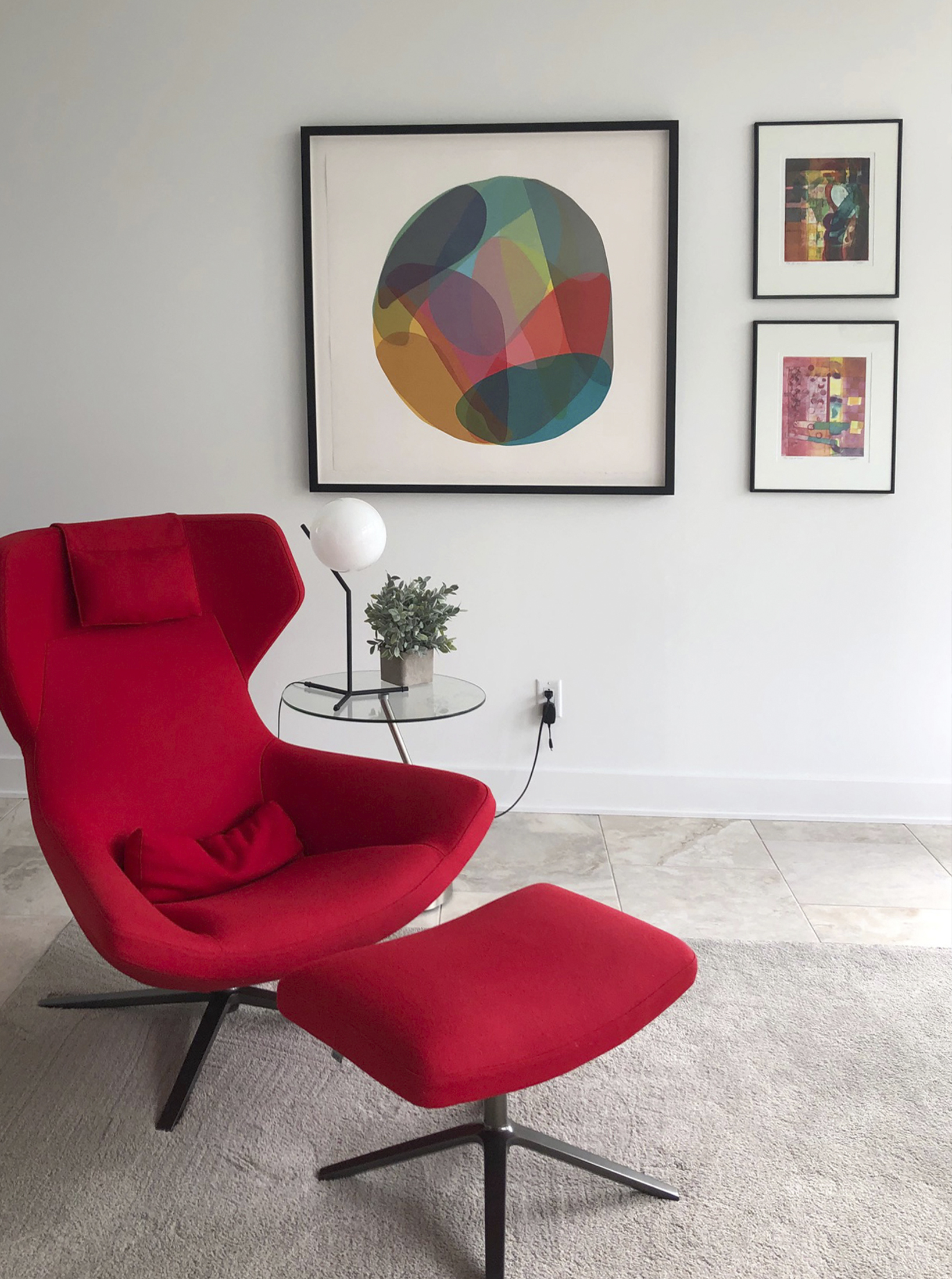 A FEW TAKEAWAYS
01 | We are here to help through every step in the process
02 | You get exactly what you want
03 | Commissions aren't scary. Show us your empty walls. We want to help you fill them up with artwork you love!